Who's That Girl!?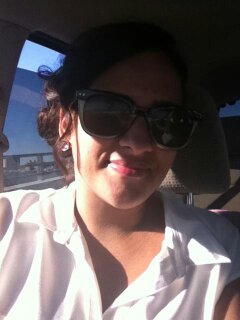 The Queen- Madonna once asked "Who's that girl?"
Well me- I'm just a girl from Jersey. YES, I love big hair, mani's and pedi's and I have, in fact, spent many-a-night at the Jersey Shore. But more importantly, I'm a Latina with an insatiable appetite for anything and everything related to fashion.
I'm pretty sure that my obsession had to start when I was barely a year old, when my mom used to dress me up like Madge herself ,while she and my Aunt pranced around our apartment belting "HOLIDAY!.. CELEBRATE!" Yep- all 10 lbs of me dressed in bows, costume jewelry and dark sunglasses.
Fast forward to my fifteenth birthday, my Quinceanera, when my cousins gave me my very first Fendi purse- it was a little, round, candy-apple red cross-body bag. I cherished it so much that I never wore it, only taking it out of its dust bag to admire its quality! I never figured out how it disappeared, but the thought of it pains my heart to this day.
Four years later, I discovered my passion for writing, and was hired for my first internship at a PR Company. It was here that I combined my two passions- fashion and writing. It was there, sitting on the smooth hard-wood floor of our office on Broadway, surrounded by brands like Christian LaCroix, Costume National, and Carlos Miele that I was enlightened. It was as if the dress racks parted and the fashion gods whispered my fate.
"Write," they said. "Preach to the masses about style, beauty, versatility and Louboutins."- OK that may not have been what they said EXACTLY, but close enough! Never-the-less, since then, this latina has been hitting the pavement, combing the internet, and digging through her mother's closet preaching and styling, all while belting "HOLIDAY!…CELEBRATE!"
XOXO
Enjoy!