Look for Less: Jeffrey Campbell!
We love all Jeffrey Campbell styles, but our favorite of all time has to be the JC Lita Platform Booites. The towering heel, varied colors/patterns, and versatility to go from casual to glam just screams "TAKE ME HOME!"
I can't, however, justify paying $160 + per pair. When fashion is constantly changing, what's in today is not tomorrow. And although we hope with our whole heart that we'll be rocking our Lita's well into the future, chances are there will soon be another chic shoe that will make us swoon just as hard.
Our motto? Spend major cash on classic staples that will always be in style, and skimp a bit on the fad pieces that may not necessarily stick around for the long haul! Needless to say, after ogling the Lita Platforms on Nasty Gal and resigning myself too poor to dish out the cash for them, I was super stoked when I stumbled across the Lita's more frugal doppelganger on GoJane!
I'm proud to say that I now own these beauties in several colors and they are the STAPLE around which I am planning my fall wardrobe! The resemblance is uncanny!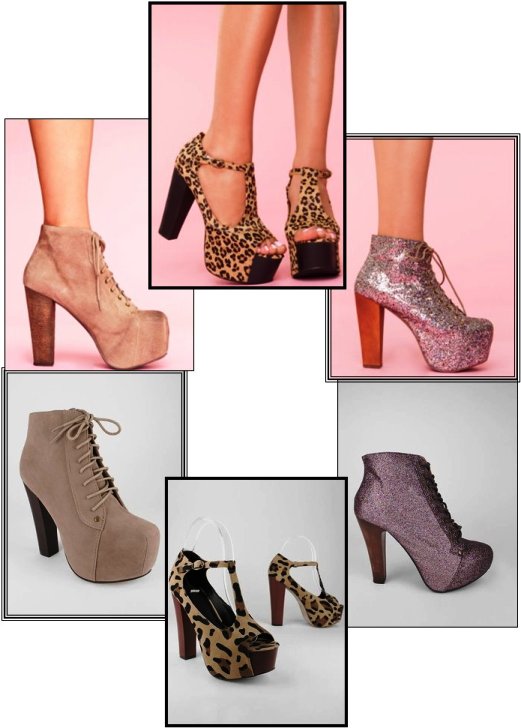 (click to zoom)
From top left: JC Lita Platform Boot- Taupe, JC Foxy Pump- Leopard, JC Lita Platform Boot- Glitter, Go Jane- Lace-up Platform Bootie- Glitter, Go Jane- Peep-toe T-strap Platform- Leopard, Go Jane- Lace-up Suede Platform- Taupe
2 Responses to "Look for Less: Jeffrey Campbell!"